Raines Dental's mission is to create a positive dental experience for our patients. Your comfort and oral health is of primary importance.
Welcome to Raines Dental
At Raines Dental, we offer state-of-the-art dental services in a warm and caring environment. Jason Raines, DDS practices a full scope of general and cosmetic dentistry with expertise ranging from porcelain veneers to dental implants and crowns. Delivering quality, affordable care, our kind and patient staff is sensitive to your needs, especially if you have dental anxiety. We look forward to providing a stress-free experience!
A dental implant replaces a missing tooth and is highly similar in structure to a natural tooth, consisting of three parts: a crown, an abutment and a titanium post. The post is inserted into the jaw, and permanently fuses with your bone.
Cosmetic dentistry can be bonding, whitening, veneers or more. Whether it is a natural appearing enhancement or movie-star white, Dr. Raines and staff can transform your smile.
Invisalign® uses a series of removable clear aligner trays that treat many orthodontic issues. Our partnership with the orthodontic company, Evenly, makes this an even more efficient process.
Dr. Raines, DDS
To Dr. Raines, dentistry provides him a creative outlet where he can meet new people and help them achieve a healthy smile that they are proud of. "Being able to create a lasting work of art in a patient's mouth is extremely rewarding, and I take pride in the outcomes and appearance of my patients' smiles. It is my goal to deliver dental care in a pain-free, gentle manner, with the potential of completely altering a patient's perception of what dentistry is all about."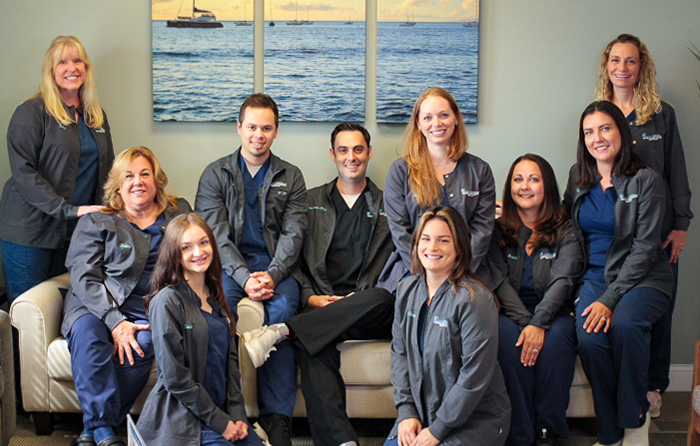 Our Staff
The first faces to greet you and often the last to see you off are our administrative staff, dental assistants and dental hygienists, who make sure all your needs are met. Focused on service, they have a shared goal — to provide the highest quality care in the most comfortable environment.
Smile Gallery
Our experienced and caring staff support Dr. Raines in giving you a beautiful smile that you can feel confident in. Feel free to browse our patients' before and after photos to see how we can help you.
Preventative, Restorative and Cosmetic Dentistry
Using advanced cosmetic dental treatments and materials, your Mullica Hill, NJ cosmetic dentist, Dr. Raines, can make a real difference. The skill, experience, and commitment of our practice — using a unique combination of science and artistry — can literally redesign your smile.